Section 3 of the Value Gap report explains that while music streaming seemed to be a way for artists to offset declines in revenues from both digital and physical sales, low royalties from free streaming services have made any significant revenue unlikely. Music Canada explains that music listeners visit intermediary websites which have no obligation to pay a fair share, such as YouTube, which pays much lower than other streaming services.
In fact, artists will need hundreds of thousands or millions of plays on the major streaming platforms to earn the equivalent of minimum wage.  A study on behalf of CIMA demonstrated that individual artists in Canada earned an average of only $7228 per year from 29 hours per week of music-work.  The reality for most artists is that they must supplement their income with other work and have their passion for music as a hobby or part-time occupation. Canadian artist Zoe Keating opened up for the report, describing to have earned only $261 from 1.42 million views on YouTube.  In fact, 92% of Keating's income was from music sales, rather than streaming.  Attempting to calculate earnings, informationisbeautiful.net, said that a song must be played 2.4 million times on YouTube to earn a "minimum wage", measured as $1472.65.
Canadian artist Miranda Mulholland elaborated with a speech to the Economic Club of Canada in May.  Because of the value gap, she is unable to make a living, saying that Google's rates are the lowest in the world – building their revenue from the talents of others without acknowledging it.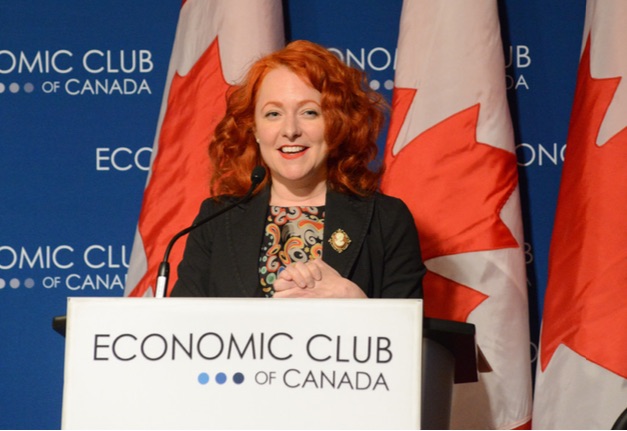 Miranda Mulholland speaking to the Economic Club of Canada.
As governments tried to facilitate the transition into the digital marketplace in the 1990s, laws were enacted to help technology companies succeed.  Yet exemptions were repeatedly codified into the law over time, minimizing the creator's right to be paid.  The challenge today is restoring the social contract.  Dr. George Barker refutes the hypothesis that digital technologies and the proliferation of the internet have produced a 'Golden Age' for creative sectors, stating that safe harbours and exceptions to enforcing rights make sub-value licensing the only option for rights holders to receive any compensation.  This resulted in a major value gap – music trade revenues in Canada have fallen more than a billion dollars lower between 1998 and 2014.
A recent initiative, Focus On Creators, was created with the belief that without urgent attention from the government to out of date laws and regulations, the unique stories that Canadian creators have to tell could be risked.  Focus On Creators launched with a letter signed by 1000 professional creators, now over 3600, urging the government to put prioritize cultural policy.  Signatories include Gord Downie, Alanis Morisetteand Michael Bublé.  The letter urges for legislative reforms to improve the working environment for creators, while the middle-class artist is being eliminated from the Canadian economy.
Focus On Creators is focussed on two major federal cultural policy initiatives.  The letter asks Minister of Canadian Heritage, Mélanie Joly, to stand up for creators in her "Canadian Content in a Digital World" consultation, and in the 2017 review of the Copyright Act.  Minister Joly appeared to respond to the call to action in June, saying that the issue of fairness to creators is something she will be considering in the revision of the Copyright Act.  Concerned about fairness to creators, Joly decided to launch an international conversation about fairness to creators with digital platforms.  She claimed that there is a parliamentary review of the Copyright Act coming, with focus on the importance of fairness to creators.
Groups like Focus on Creators have united and want a detailed review of the Copyright Act which will have results for creators in Canada. The best solution stands clear: the government needs to examine the Act and respond to any instances allowing for the commercialization of creative works without appropriate artist compensation.
Read more here!